Are you looking for dependable and exclusive flower shops in Lagos?
Do you need flowers for an event that is coming up soon? or would you like to appreciate someone special in your life with flowers? Would you like to surprise your wife, mum, girlfriend, sister with flowers that will make her smile? Flower shops in Lagos are not created equal. If you are looking to add a touch of elegance to your day, consider Christines Creatives as your willing and able partner.
At Christine's Creatives we do our very best to ensure that you and the recipient of our flowers have the warm fuzzies when our flowers are delivered. We create one of a kind floral arrangements that can be delivered to your loved ones. We also decorate events exquisitely to meet and/or exceed your expectations.
Flowers are a great way to show that you care and appreciate a special person! Birthdays, Weddings, Engagements, Mother's Day, Father's Day, Valentine's Day, Laying-in-State are some occasions for which flowers are appropriate. Can you imagine the smile you could put on your mum, wife or girlfriends face because you had flowers delivered to her at work? Priceless!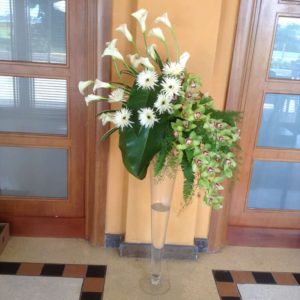 Christine's Creatives is your neighborhood florist with a huge assortment of floral offerings that you can choose from. We design and create centerpieces, bouquets, wreaths, boutonnières, tall floor arrangements, fruit baskets and more, utilizing the freshest flowers/fruits and the highest quality artificial flowers.
We hope you give us the opportunity to serve you. There's nothing that makes us happier, than satisfying our customers. Send us an email, give us a call or drop by our shop. Let us know how we can make you happy today. We are very friendly and always willing to work with you to meet your needs.
Thanks for stopping by our virtual shop. We hope you have a truly fabulous day! 🙂